Third Horizon Caribbean Film Festival
The second annual Third Horizon Caribbean Film Festival returns to Miami September 28 to October 1 with a curated lineup of the best in film from the Caribbean and its diaspora.
In a historical moment when the very notion of cultural diversity is being threatened from so many angles, a full appreciation of the Caribbean as perhaps the most culturally diverse region in the world has never been more important.  As the crucible of the modern world, the Caribbean has always been a place where people from the Americas, Africa, Europe and Asia have converged, and if anything, the conversation around diversity that is currently gripping both America and the UK is one that the Caribbean has already been immersed in for centuries.
Third Horizon Caribbean Film Festival aims to celebrate and showcase this diversity by highlighting the most adventurous creatives in film, art and music who are emerging from the region and its sprawling diaspora. We hope you join us for a weekend that explores just how the Caribbean, in all its colorful nuance, is at once a signpost of the present, the past and the future of our ever-expanding world.
The festival was founded by Third Horizon, a Miami-based collective of Caribbean creatives whose first short film, Papa Machete, had its world premiere at the Toronto International Film Festival in 2014 and had its US premiere at the Sundance Film Festival in 2015, before going on to screen at more than 30 film festivals worldwide. It is staged in partnership with the Caribbean Film Academy, a Brooklyn-based not-for-profit organization whose core mission is to support and distribute the work of Caribbean filmmakers.
---
FESTIVAL ARTIST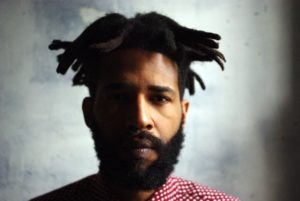 This year's branding draws on the work of Kwesi Abbensetts, a New York-based photographer, self-taught visual artist and 2016 NYFA Fellow. Abbensetts hails from South America off the Corentyne coast of Guyana.
"I am an Intuitionist.
My process of creating is led by an intuitive and unconscious calling. It relies on waiting, spontaneous inspiration and feelings. My process places trust in randomness, moments and happenstance instead of trained formalities of art making and practice. My work relies on memory information and the influence of space/environment to create and influence my work, a call and response.  
My work is tightly bound to my identity and consequently the work and subjects become a rendered celebration of my culture. My work is concerned with I call "Revisionary Self Appropriation." It is a work that seeks to build new context and representation of self and not relying on direct posited contemporary references. It relies on "blood" memory, invention and experimentation via the process of intuitive force performance."
His work can be found at spaceshipgeorge.com and on Instagram at @spaceshipgeorge.
---
ORGANIZERS
The Third Horizon Caribbean Film Festival is produced by:

Co-Founder and Festival Director
Jason Fitzroy Jeffers
Managing Director
Romola Lucas
Technical Director
Justen Blaize
Creative Director
Keisha Rae Witherspoon

Director of Programming
Jonathan Ali
Co-Founder
Robert Sawyer
Social Media Supervisor
Monica Sorelle